The Border Siege Map Editor is a piece of software written in Java specifically to create maps for Border Siege.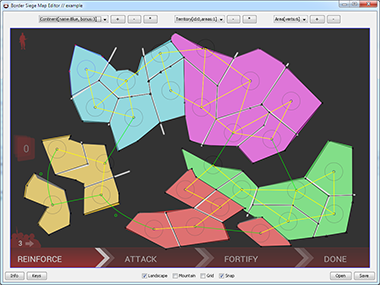 This is development software and is provided as-is. Support and features for this product will be extremely limited so try to make do with what there is, and figure out how to best use the software in it's current state.
Note: if you save a game played on an external map, you will only be able to properly load this game if the external map is set to the same file as originally played on. If the external map setting has a different file selected, you will encounter an error when loading the saved game.
Requirements:
Desktop computer with Java version 7 (http://www.java.com/en/download/index.jsp)
READ THE INCLUDED README BEFORE USING!
Download editor:

siege_map_editor_jan4.2014.zip (203 KB)
Standard maps XML
A pack of all the included Border Siege maps (as of 1.8.5) in XML format for use in the editor:

siege_maps_1.8.5.zip (189 KB)